thursday, october 16, 2008
Here's a book I made recently for my book arts class. I'll talk about my other classes at some point too.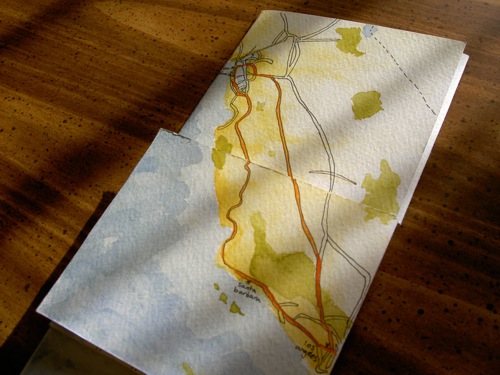 This is a tetra-tetra flexagon that folds open three times to zoom in from California to the Bay Area to San Francisco to the Mission/Castro area. A flexagon sounds fancy but it's just one piece of paper cut and folded in a certain way — here are directions for making your own (it's easy, but it helped me to see them in person first).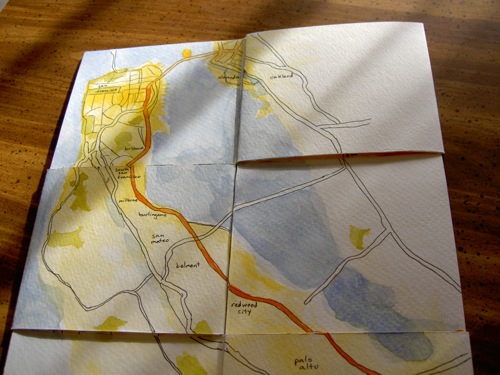 This map only covers what I know. I labeled the cities and neighborhoods that I'm familiar with, and I left areas blank if I haven't spent much time there. (Except I left parts of the Mission/Castro blank because I'd gotten tired of tracing and painting.)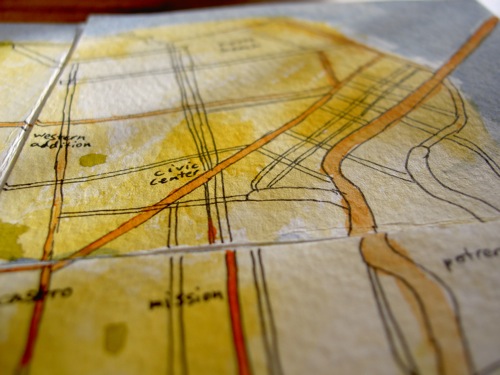 A darker yellow background means I've spent more time in that area. A darker orange freeway or street means I've traveled along it more often. Green means a park.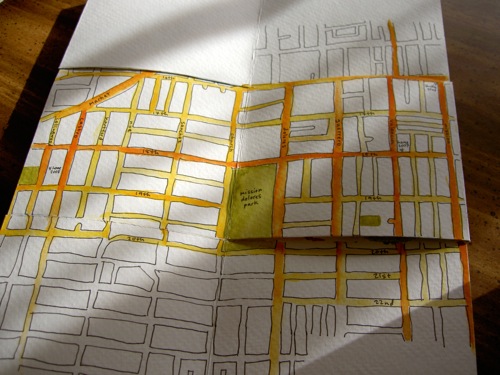 So, this book is a way to look at my three summers during college, focused on the past two summers because I couldn't put the Sunset, the Mission, and the Castro together on one spread. If you fold up the map from its fully open state above, it tells a kind of story:
[4: Mission/Castro] I lived at 18th & Valencia in summer 2007 and 19th & Collingwood in summer 2008 (and 41st & Irving in summer 2006), and I spent a lot of time near those places. [3: San Francisco] I wandered around the city on weekends. [2: Bay Area] On weekday mornings I walked to the Yahoo! shuttle stop at 16th & Mission and rode to Santa Clara, and on weekday evenings I returned the same way. [1: California] At the beginning of each summer, I went from Santa Barbara to Los Angeles for a couple weeks since that's my home, and then I went up to San Francisco. At the end of the summer, I returned from San Francisco to Los Angeles and then went back to school in Santa Barbara. I work part-time remotely from here.
An animation of reading the book, starting with it closed: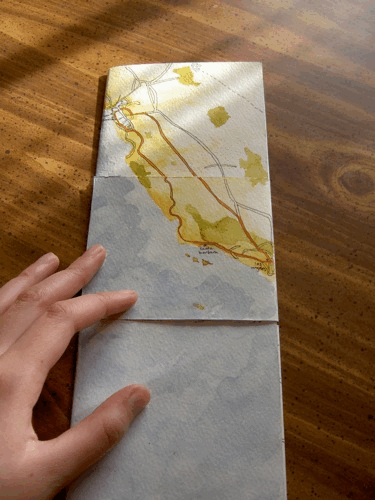 This book also ties in with the Flickr photo map of my summer photos and seeing the Bay Area from above when flying to New Jersey for a few days during the summer, when my grandpa was dying, which is the part of my summer that the map doesn't reflect.
This book and map painting is so so beautiful. I love your photographs, too. The light and shadows give so much depth, wonder. Nice animated touch! Bravo.
– KellyR on 10/16/2008 08:47:06
Oh, Britta, this is gorgeous!
– Jeffrey on 10/16/2008 10:22:31
thank you both! it was fun to make.
– britta on 10/16/2008 11:51:24
How come you didn't show this to me when I was there??? It is so pretty and amazing! Is it weird that it reminds me of the New Yorker cartoon book with the Bad Mom cards? I think the orange and the little writing? Maybe I'm crazy.
– lizzy on 10/28/2008 01:17:44
oh lizzy i forgot! i can show it to you another time, along with other books i've made for this class. yeah, roz chast probably uses watercolor + pen, which is what i did.
– britta on 10/28/2008 12:20:38
oh, flexagons! I know those.
http://www.mathematische-basteleien.de/flexagons.htm
from Martin Gardner and Mathematical Games. Lots of varieties. These are neat.
– Edward Vielmetti on 10/30/2008 19:36:46
again reminded of how cool this is, and thinking about how to do some kind of flexagon arrangement combined with other map printing stuff.
– Edward Vielmetti on 11/20/2008 06:48:50
Britta, your work is lovely and you are lovely! I wish I lived in SF and could weasel a date with you.
– Jonathan K on 12/26/2008 07:30:44
Thanks! Sure, we'd just have to bring my boyfriend too.
– Britta on 12/26/2008 13:24:55
This is gorgeous... and makes me nostalgic for the SF Bay Area. That summer you lived at 41st & Irving must have been the coldest ever (I lived at 25th & Judah for a while)! Really lovely work.
– Charlene on 2/13/2009 02:23:24
I really like your flower sunlight calendar! And I liked the Outer Sunset! It was a good place to start, quieter than future summers, with nice weird vegetarian food nearby and walks to the Inner Sunset. I'd take the N-Judah into the sunshine on the weekends...

p.s. to everybody, I'm thinking of scanning this and making some inkjet-printed ones to put on Etsy. Maybe email me if you're interested.
– Britta on 2/13/2009 03:20:45
That is truly a work of art. Love the movement of the book, the colors, the thoughtfulness of it.
– Alison Murray Whittington on 2/13/2009 14:00:28
comments are off. for new comments, my email address is brittag@gmail.com.