thursday, june 28, 2012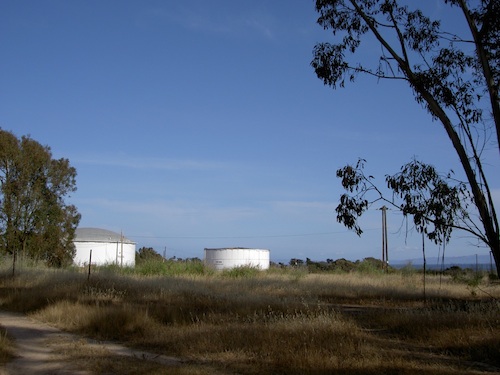 I grew up in Los Angeles where there are a lot of oil wells, usually somewhere out along a freeway. (I always liked the wells you can see on the way to LAX, ones that look like dinosaurs eating from the ground.) In Santa Barbara, our oil wells are out in the ocean, and the university-owned nature preserve leases some space to an oil company to store crude oil drained from the ocean floor. This nature preserve is next to the neighborhoods around the university, and you can just walk out into the fields and look at the tanks with their coded markings and geodesic dome tops.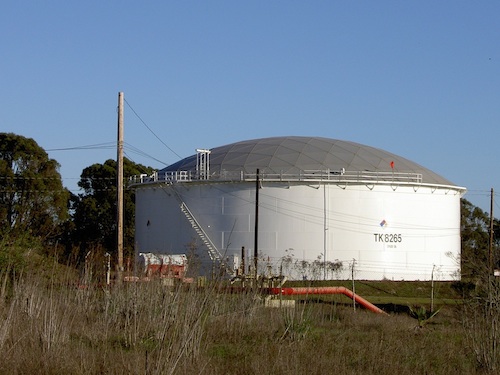 Nobody really tells you that the tanks are there, since most people either don't find them particularly spectacular or haven't been to the nature preserve. You hear about them when you acquire a boyfriend who lives next to them; he shows them to you because you both like infrastructure. (From his apartment we listened together to trains whistling, the coastal fog horn, and airplanes headed to and from the little airport next to the university.) We found out about a historic gas station down the road, built as a showcase by one of the oil companies in the 1920s, now picturesquely defunct and a favorite of everybody in town with a fancy camera. On a few Saturdays we took long driving trips to visit other oil fields — he'd tell me we were going on an adventure, and a couple hours later I'd look out to see more oil pumps than I'd ever seen in one place before.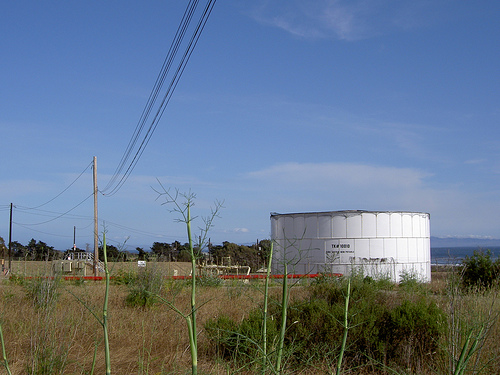 The native Chumash people used the natural tar on the beaches here to caulk their canoes, and the tar still comes up and caulks the bottoms of your feet if you're not careful while walking on the sand. There was even an asphalt mine for a couple years in the late 1800s where the Art Department building is now; there are a few surprising pictures of very grimy-looking men hauling things around the campus lagoon.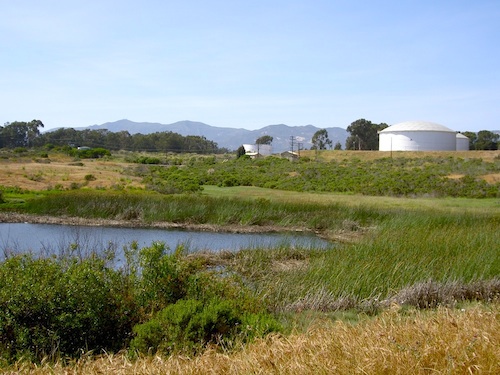 I've read that the oil company's lease on this nature preserve land ends in 2016 and the university doesn't plan to let them renew it, which makes sense, but I like living in a place where its history is so close to the surface. By looking you can find clues that this land was once a slough, then ranches, then explored for oil, then a small WWII marine base, then a university nature preserve. It's not heavily developed enough yet to obscure the origins of the place, unlike where I grew up in LA — where old underground oil developments sometimes come back to bite people in the form of gas explosions, and where the remaining active oil wells are carefully hidden.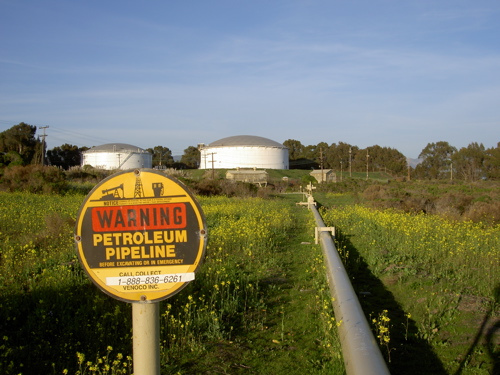 comments are off. for new comments, my email address is brittag@gmail.com.