saturday, march 17, 2007
This is my boyfriend: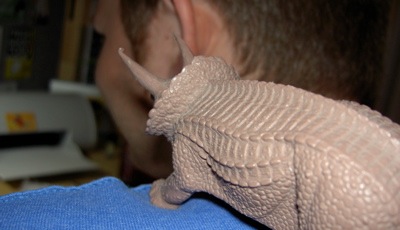 One day I complained to him, "Waaah, my del.icio.us linkroll ["things i find"] uses dumb quotes ["], not real curly quotes [""], unlike the rest of my SmartyPantsed blog. It's so inconsistent and ugly that my eyeballs burn." This got his haxor brain thinking, and he fixed it despite the wrangling with Blosxom and Unicode it involved. Yay!
Who is this boy anyway?
– Douglas Thrift on 3/17/2007 18:36:18
wow i really wish i was a hacker and could undo that just to annoy you. i guess i'll have to stick to rearranging your thimble collection.
– lizzy on 3/18/2007 18:59:16
what?! you're not allowed to touch it! anyway, i've tried organizing it before and the thimbles are kinda hard to organize. they don't stack up nicely since they're all from different manufacturers. :(
– britta on 3/18/2007 19:50:05
That's really amazing. I mean, since your boyfriend appears to be a plastic dinosaur.


Oh, the GUY.
– devon on 3/26/2007 19:54:01
comments are off. for new comments, my email address is brittag@gmail.com.