tuesday, may 18, 2004
five things i've read and watched recently, and some of the ways in which they relate to each other.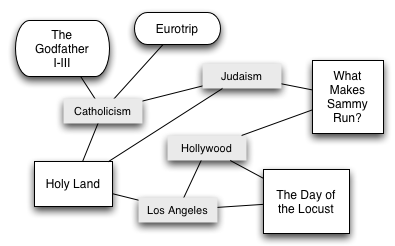 i want to keep a running diagram like this. everything i read and watch should go on it. it would be huge and sprawling and quite interesting.
i wish omnigraffle's demo mode let you use more than 20 items.
Omnigraffle rules!

Hmm, I wonder what would happen if I spent a day Omnigraffling. . .everything?
– brett on 5/19/2004 07:38:58
*sigh* Mac'ee software, and those demos/shareware proggies... hindering my babe's creative vibes
– Mister Kyle on 5/19/2004 18:18:26
comments are off. for new comments, my email address is brittag@gmail.com.