monday, may 09, 2011
I like making essays with Flickr galleries. Finding a set of photos on a theme is easy with the quality of work on Flickr, and it's fun to write a little bit about an idea when you have that kind of visual structure to work with. Here are some galleries I've made since my last list of them a couple years ago.
Alien Los Angeles





After college I started watching a lot of Star Trek, which turns out to have been filmed mostly in the Los Angeles area, where I grew up. What does it feel like to watch imaginary characters stomp around familiar parks? Even stranger, how do the landscapes of Southern California manage to serve as alien planets for an audience around the world? I don't know, but it's interesting enough just to look more closely at some filming locations.
San Francisco's Shoe Garden





I like this spot in Alamo Square Park, a nice example of public art and local character.
The Castle of Santa Barbara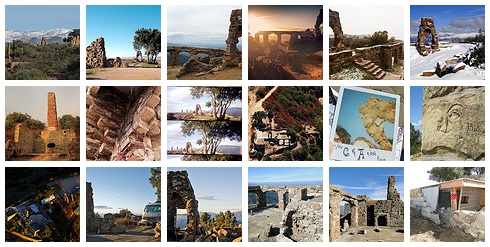 Knapp's Castle is another favorite semi-obscure local landmark, a photogenic ruined mansion in the mountains above Santa Barbara. It's everyone's secret to share, everyone's excuse to go drive up into the mountains for the afternoon.
The Fanciest Gas Station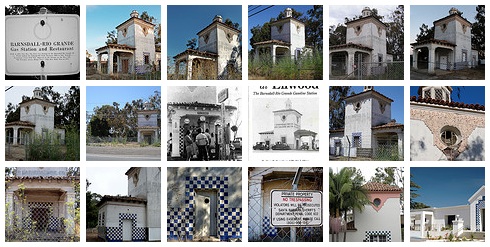 These are some detail views of another landmark ruined building near where I live, this one working as a physical reminder of how Santa Barbara's rich oil fields helped fund our fancy architectural style.
Coal Oil Point Jail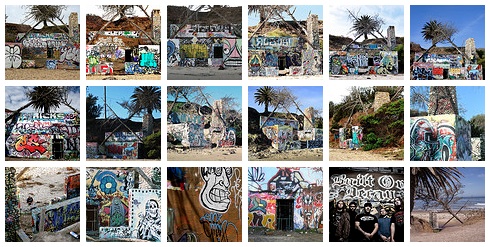 A third ruined landmark in Santa Barbara County, slightly less glamorous — an unofficial collaborative art project within walking distance of UCSB.
Fountain, Mission, Reflection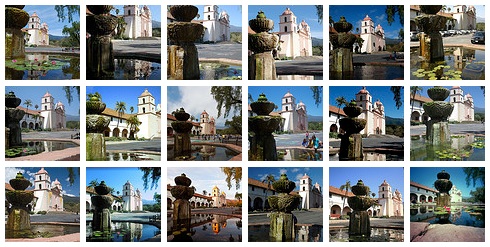 Many people take the same postcard photo of the Santa Barbara Mission, a building that has been carefully (and sometimes imaginatively) restored every time it's fallen apart over the past couple hundred years. I like the variations on the same shot.
Sidewalk Compasses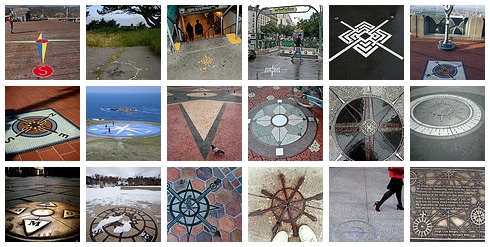 Hey look, a literal metaphor for directions and pathmaking! This might be a good place to explain that in 2010 I moved from Los Angeles to San Francisco to New York City, which was a great adventure, but this year I listened to Isla Vista calling me back home. I wake up to sunshine and ocean air and eucalyptus trees, and I work with my friends on something incredibly exciting, and we watch the prettiest sunsets and sunrises together.
sunday, october 10, 2010
From art classes for fun a few months ago at Glendale Community College. Charcoal and ink: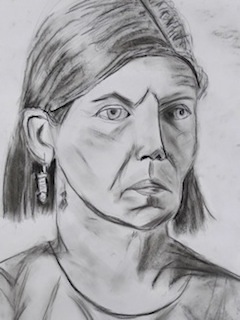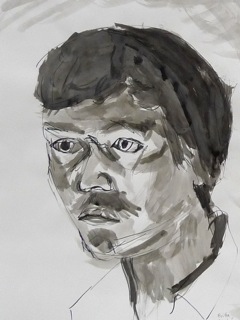 Slab-built box in Arts and Crafts style and carved sugar box with spoon (see for scale):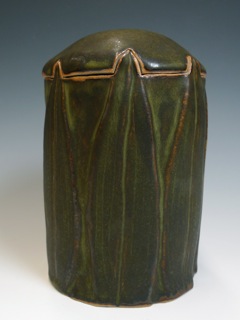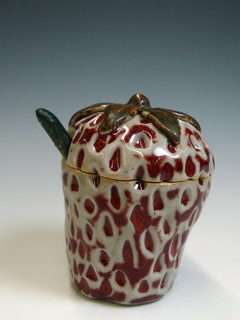 Slab-built mug with linocut-style sgraffito California poppies, indoors and outdoors: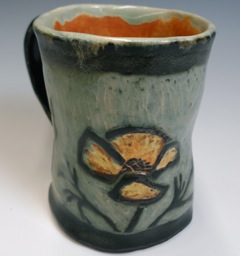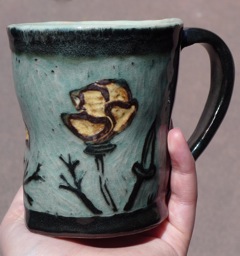 I loved my ceramics class, which was just hand-building, no wheel-throwing. It's good exercise for people who read The Design of Everyday Things back in high school — turns out it's not that easy to make a bowl that works even as well as the mass-produced one you can get for a dollar down the street, much less one that works better.
You learn to make preliminary sketches and small models, because if you don't have a strong concept before you spend hours making a mug, you get an ugly cup with an awkward handle. This happens when designing web pages and writing blog posts too, but a pile of smushed clay on your table makes a point. The same goes for close attention at every step: a rough edge, weak join, bad choice of glaze, or a dozen other lazy mistakes can ruin how the thing works and feels. So you have to make lots of pieces before you come up with anything decent, but most of the efforts along the way are nice to keep around too.
wednesday, september 23, 2009
Flickr recently released a way to make "galleries", where you gather up pictures by other people and arrange them into little photo essays with comments. Here are mine.
Blade Runner in San Francisco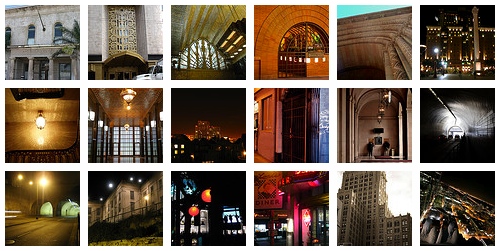 I wrote a short response about the geography of Do Androids Dream of Electric Sheep? (by Philip K. Dick) for my recent Science Fiction class, and my instructor commented encouragingly. Okay! Here's textual analysis combined with multimedia nerdery and love for the city.
Bump patterns





Little me spent a long time looking at a copy of M. C. Escher's Metamorphosis II (in color). These photos show geometrical arrangements transitioning across several different kinds of surfaces, both natural and man-made. I'm a fan of all of them.
Glazed green tile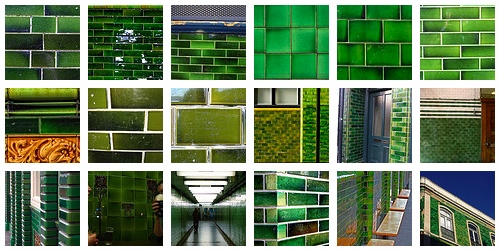 There are tons of solid and patterned tiles around Santa Barbara, but the light does something else with these glazed bricks. Many of them are in London, which supported some thriving tile manufacturers in the Victorian era.
San Francisco parking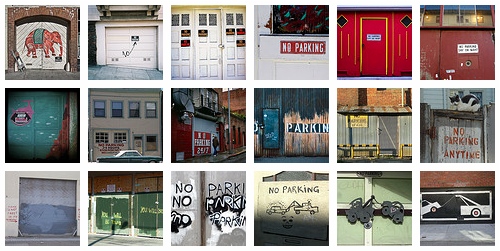 While working on the Blade Runner gallery, I realized again how much of San Francisco I didn't see during my summers there, even though I spent my weekends walking around as much as possible. Then I saw "No parking Outside this gate in Constant Use" (thanks to Noticings) and remembered all the wonderful signs in the city. I'd like to go back sometime.
wednesday, may 20, 2009
Designed to spot colorful fruits and berries from a distance, our primate eyes notice feminine necks decorated with strings of round, pigmented beads which catch eyes and whet a desire to reach out and touch what seems to be "edible." — "Love Signals I" from The Nonverbal Dictionary.
Etsy's Poster Sketch feature took up a large chunk of my time by letting me make this arrangement: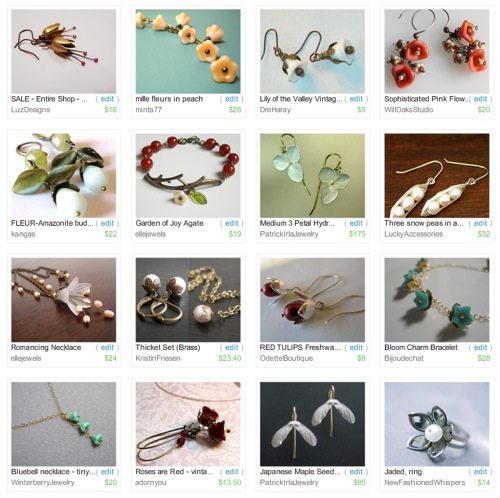 Links: Squash Blossom, mille fleurs in peach, Lily of the Valley, Pink Flower, FLEUR, Garden of Joy, Hydrangea, Three snow peas in a pod, Romancing, Thicket, RED TULIPS, Bloom, Bluebell, Roses, Japanese Maple Seed, Jaded.
This set is related to a display I saw in a store window in San Francisco — I've also seen a similar display in the gift shop of the Santa Barbara Botanic Garden — and Etsy has more interesting items with choices in a broader price range. It's not the kind of jewelry I wear (less delicate and cheaper), but I like looking at it. Other nice earrings by a friend of a friend: californiablue.
saturday, april 19, 2008

The following prints are adapted from that photo, which I took last year around Taft.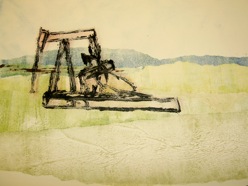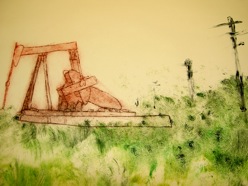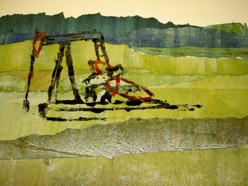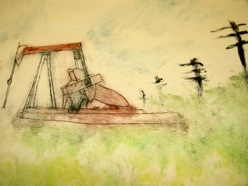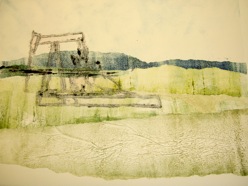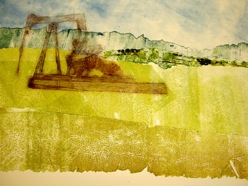 See all of them at once, pictures of the process, and a little video of making a print. I like oil wells. They look like dinosaurs, and they're "drinking" liquefied ancient dinosaur matter, so they're weird mechanical cannibals.
This class is taught by the same person who taught my letterpress class a while ago. Working on paper takes a long time, but it's fun and helps me think about web design.