wednesday, august 18, 2010
When people care about the place where they live, they often end up helping make it a better place. But how do people get interested? It might help if the history of that place is brought to the surface, making its compelling stories more noticeable. A good local newspaper or blog can do this, but only if you find one and read it regularly. An augmented-reality mobile app might be able to do this instantly for anyone curious about their surroundings, but only if they have that device. What about for everyone? These are some stories about a place I like.
Isla Vista is the only neighborhood right next to UCSB, and it has a bad reputation as a half square mile of drunken student parties. It is that, but it's also a lively dense community with its own complex history, where people walk and bike everywhere, with more of a sense of place than you can find in some whole cities. It's noisy on weekend evenings (starting on Thursday), and if you're used to nice suburban neighborhoods then it probably looks like a crowded mess, but it's interesting and deserves more than the usual stories of terrible landlords and beer pong tournaments.
A few examples of Isla Vista's self-image: there's a local blog called Only in IV where all the posts are photos of drunk student shenanigans (and a few beach sunsets), the more outrageous the better. A website called The Dark Side of UCSB compiles and sensationalizes statistics about crime and drugs in Isla Vista, with the attitude that these problems are endemic to IV and can't be avoided or improved. A personalized map of the Santa Barbara area, with Isla Vista on the left, describes it as "STDs, broken glass, sex, loud music, bikes, theft, bike theft." A photo essay describes IV as a "teeming ghetto paradise…Children or adults are odd apparitions here…Trampolines and beer pong tables litter most yards…a glorious mess of potential and pollution, treasure in trash." All of this is only one aspect of IV, mostly Del Playa Drive (the street closest to the ocean), but it's the reputation of the whole place.
So I spent my first three years at UCSB mostly ignoring Isla Vista. I only walked in to get a sandwich or cookies (a friend had told me about the IV food co-op), and sometimes I ran into the main park along the way. It's a very nice park, with lots of trees and a little pond, and this confused me then because IV was supposed to be some kind of den of stupidity, not a lovely place to escape from campus for a little while. In my fourth year I moved to an apartment there with a friend, and out of curiosity I started walking around, taking photos, and googling what I found. (And then I started playing Noticin.gs, which turned these walks from "occasionally" to "every single day, up and down as many streets as possible.") I learned that when you look carefully at a place, it starts to tell a story.
Each thing in Isla Vista has something to say: a small stand of oak trees remaining from a very old forest that helped feed the nearby Chumash village (until the Santa Barbara Mission moved in), an earthquake-damaged polo barn built by a gentleman rancher a hundred years ago, place names with grammatically incorrect Spanish phrases thanks to speculative land developers in the 1920s (Isla Vista, Del Playa, etc.), kitschy apartment buildings built in the 1960s after UCSB moved to the defunct marine base campus next door, a system of pretty little parks developed as part of post-riot community organizing in the 1970s, a solar-powered parking lot built last year as part of a "Master Plan" to fancy up the area, and a zillion other bits and pieces within this half square mile that is more interesting than it looks at first.
But few people have the time or inclination to develop a gigantic enthusiasm for local land-use history, so a lot of students graduate from UCSB without ever seeing the fancy old barn, or learning why the street names are so weird, or noticing the lovely modern houses at the end of Del Playa — and now I think they've missed out on something good. IV is not a place where most people want to live for decades if they have a choice (hearing drunk guys peeing on the plants outside your window gets annoying, and thumping party music from next door probably doesn't help babies sleep, and did I mention that most of the housing stock was cheaply built in the 60s and hasn't been properly maintained), but it offers an alternative to the anonymous apartments and quiet single-family houses that we're all likely to drive home to for the rest of our lives.

Fortunately there are a lot of students (and other residents and friends) who love IV and work to keep the good side of it healthy through participating in the food and housing co-ops, organizing all-ages live music shows, helping out the homeless residents, painting fantastic murals (official and unofficial), picking up trash, publishing a local magazine with the help of the university, making community banners, and lots more. But there's something that could be added to this, counteracting the kind of short-term memory that comes from most of the population spending fewer than four years in the place. You can collect parts of the story if you search around a lot: an UCSB and Isla Vista Walking Tour and Historical Accounts and Maps of the Goleta Slough (both compiled by a UCSB physics professor), "Goleta, the Bad Land" (an article about the town next door), a graduate student project covering the history of the IV Parks and Recreation District (although those PDFs seem to no longer be online), and a couple of works from specific activist points of view: Isla Vista: A Citizen's History and Don't Bank on Amerika.
So I read everything about IV that I could find online, and my nice patient friends listened to me when I went into the mode of "Area Man Way Too Into Local County History" and rambled about why this or that church building in IV is fascinating, or about my gleeful discovery of the Tree Monument, or finding bushes of blackberries along a sidewalk. So I decided to put all of this together and hold a walking tour for whoever wanted to come. We talked about The Big Here, we had fun, it was very dorky, and I learned that this wasn't scalable to large numbers of people (both because it's tough to yell loud enough for a crowd, and because not many people voluntarily show up for this kind of thing). Here are my raw notes for it. What next?
I like interpretive signs, so I thought about whether IV could use some of those, but I think that kind of informative historical marker sometimes fossilizes the subject instead of bringing it alive — it becomes something to look at from a distance, a mediated artifact. I like sidewalk plaques better in many cases, since they don't interfere with your view of a structure or place, instead quietly adding to the ground if you want to look down and learn more.
So I'd like to install some sidewalk plaques in IV! Traditional bronze markers would be very expensive (and require who knows what kind of permission and work to install), but there's an alternative made with linoleum: messages in the style of Toynbee tiles, which are crackpot graffiti anonymously glued to asphalt roads in a few cities:
I found a guide to making this type of tile, and they sound labor-intensive but doable. They break apart after a few years, but that's fine. You can make different shapes and designs, like these:
I'd like to install tiles that add little bits of information to places around IV, just enough so that a curious viewer would have a clue toward what to search for on Google:
Or something like that. It'd be perfect if these tiles looked mysterious and a little crazy, but you could also use them as anchors for an extensive pamphlet/online walking tour of IV. All of this would probably be eligible for a UCIRA Undergraduate Action Research Grant to cover the cost of materials and maybe support a couple people working on it for a summer. I'm no longer hanging around Isla Vista most of the time, but I'm hoping that somebody else might be interested in doing this someday. If you are, let me know!
The same idea with fewer words: photos of Isla Vista in 2009, my last year at UCSB, and post-college visting UCSB and IV.
wednesday, february 10, 2010
I bought myself a new camera on the night in December that I finished my last paper as a Literature student. I was writing about why John Milton includes his personal voice in parts of Paradise Lost, right after completing an explanation of the symbolism and structure of Gawain and the Green Knight… My interests didn't fit neatly into the Lit major, so I struggled through some of the many essays, but I still wouldn't have chosen any other major. I loved the College of Creative Studies, and I'm glad I'm done.
Anyway, I like taking pictures for fun, and during college I used a small point-and-shoot that I got in high school. My new one is also a small point-and-shoot, but technology improves in nice ways when you wait four and a half years between upgrades.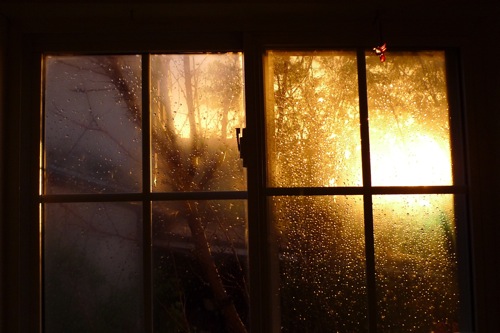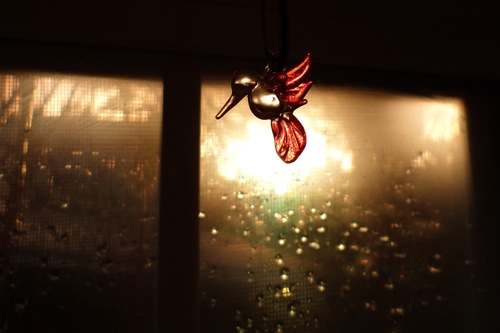 I've moved back home to Los Angeles for a little while, to read and walk and hang out with my family as I figure out where I want to work. That's our kitchen, where I cook soup that fogs up the windows on cold days.
thursday, january 14, 2010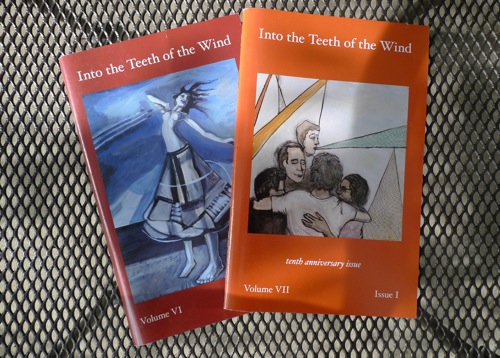 My college has a student-run poetry magazine, and I worked on it from freshman year to senior year. I like poetry, but more importantly I like publishing! Sorting bad writing from good writing, and then distributing the good stuff, is a lot of work and is pretty fun. This is a tiny publication, with printing funded by a donation; we sell some copies to students, faculty, and friends. Each year brings a mostly-new staff of volunteer students, and each year they have the chance to make something out of it.
We end up doing what Literature students are supposed to do: reading lots of writing from a wide variety of authors and talking about them in a small self-directed group, dissecting reams of terrible free verse about boyfriends and traffic jams and iguanas. Sometimes I convinced people to talk about product strategy, and sometimes we all went out to eat crepes.
I also rearranged the website, but I mess with websites all the time. More unusual: I got to design the last two print issues (Spring 2008 and Spring 2009), and I chose to make new templates and style guidelines based on the layout in the magazine's first issue from 1999. They're not complex, but I liked re-reading The Elements of Typographic Style again and trying to apply what I've learned.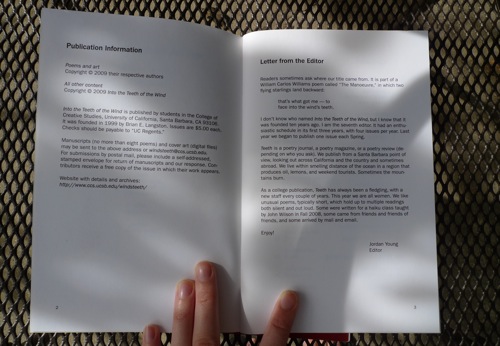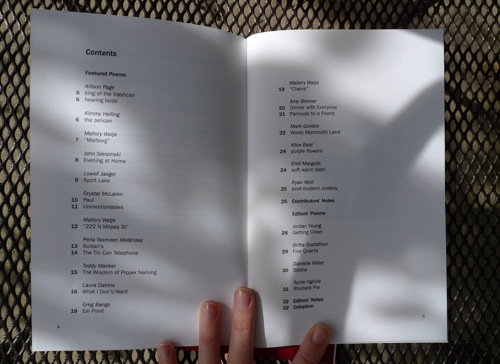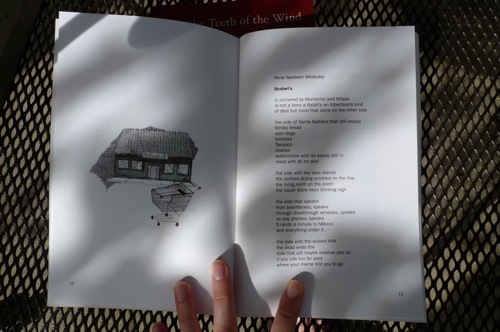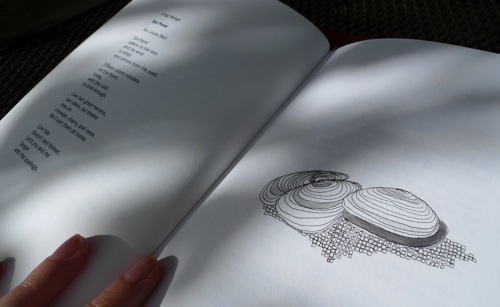 sunday, october 18, 2009
If you drive into UCSB along Mesa Road and you keep your eyes open, you can see this in the dry Goleta Slough between campus and the airport: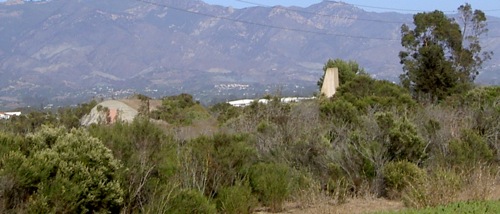 I didn't notice those structures until a few weeks ago when I started looking into the history of the building that houses the College of Creative Studies. Our building is one of a few remaining ones on campus from 1942, when the area was a Marine Corps Air Station that trained pilots for World War II. I posted the details I found about our building on the CCS Literature Collaborative blog (with aerial photos!).
During that process, I read the UCSB Long Range Development Plan's Sensitivity Study for Potential Historical Resources (PDF) and saw a listing for building 802, a "Storage Bunker" that served as a "military ammunitions bunker" for the former Marine base. This is also mentioned in the UCSB Long Range Development Plan's document about Hazards and Hazardous Materials (PDF): "Ammunition was discovered in a bunker behind the police station in 1988."
I like local history and ruins, especially military ruins (it's hard to overstate how much Doug and I enjoyed visiting the forts of the Marin Headlands and Treasure Island), and I started thinking about how to find this strange remnant. A few days later I noticed the structures in the photo above, and then I saw another bunker while walking along Los Carneros Road. They're pretty well hidden — you can barely see them in the background of this photo — but Doug and I went to find them. Here's a map.
We parked in the small lot by the police/fire station, and I was a little worried that we would get in trouble for poking around, but none of these small roads/trails had "no trespassing" signs (except the fence marking where the airport begins). Nobody was around on a Saturday afternoon except a couple of firefighters washing a fire truck. And before we even walked all the way to the bunker, we saw this surprise:
It's a tall concrete sculpture, but I don't know what it means or why it's there. I don't think it used to be part of any other structure; the base is angled in a way that would probably make it unsuitable as a load-bearing column. There's a small black plaque on one side, but I can't make out what it says except the name "Ciabatton" and maybe the date "1968". A monument or memorial of some kind? It's close to the bunker visible from the road: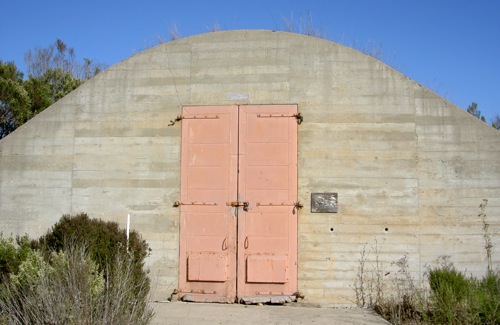 Then Doug and I walked toward this one, which we barely saw among the brush: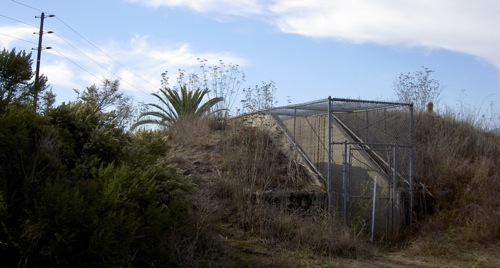 If you look through the heavy fencing, you can see the number 803 and a faded sign that says "CAUTION: HAZARDOUS CHEMICAL WASTE". Wow!
Back toward the police/fire station, here's the bunker (802) that Facilities Management uses for storage: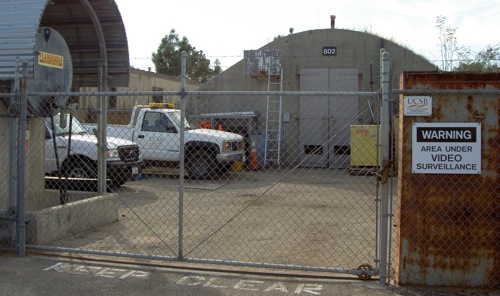 There's also a fourth bunker, but it's on airport territory and not accessible.
I asked some of my UCSB friends whether they'd seen these bunkers, and most hadn't heard of them — or had seen something while visiting the police station (to contest tickets, etc.) but hadn't wanted to get in trouble by looking more closely. It makes sense that the university doesn't publicize this utility area or make it very friendly, but I'm glad these structures are still accessible to people who are fascinated by the area's life as a Marine base. There's a nearby Air Heritage Museum open a few hours a week (for information, scroll down on this museum list), and someday Doug and I are going to wake up early enough to go there. I'd like to ask them about the weird and lovely concrete monument.
This type of camouflaged munitions storage bunker, distanced from other structures, is common on military bases. I think they're all beautiful.
Update: As of January 2011, the publicly-accessible bunkers have been torn down, along with the concrete "monument" (which was actually probably just a materials test for building Storke Tower).
tuesday, october 13, 2009
Let's say you have a drab college building or office (or whatever) that you're allowed to modify, and let's say you have money burning a hole in your pocket. Here are some things you might want, based on what friends and I have looked at or gathered for our college's little building to make it a warmer place to learn and hang out:
Also, if you have photos of people who spend time in the building, get them printed (for a few dollars at Snapfish etc.) and put them on the refrigerator with eccentric magnets. Add a magnetic poetry set and find out what kinds of horrible phrases your friends come up with. On a bulletin board, pin postcards and magazine clippings among the flyers.
Fake flowers usually aren't a very good idea.