sunday, february 25, 2007
I have an innocent-looking folder that holds 77.5 megabytes of tiny OS X icons, carefully sorted into 20 top-level folders and a zillion sub-folders. In each folder, the icons are visually organized by subject, and I've renamed most of the icons to make more sense. Here are screenshots of two folders, "clothes" and "furniture":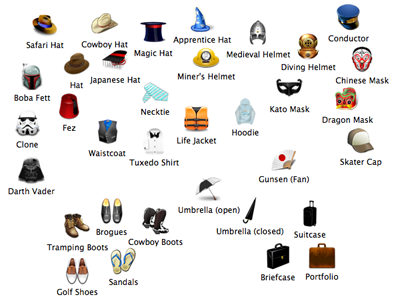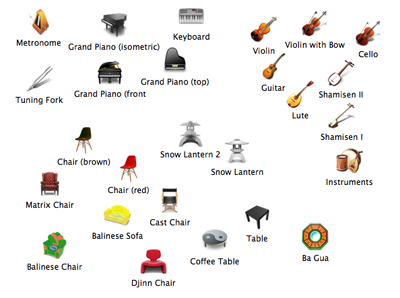 Two of the other folders are organized as follows:
food (16 icons, plus the ones in the following sub-folders)

meals (26)
breakfast (20)
sushi (11)
drinks (28)
fast food (7)
fruit (29)
café (26)
dessert (39)

hot topic (72)

alien faces (8)
bloody (14)
dust (8)
gargoyles (16)
gas masks (4)
ghosts (9)
medieval (9)
mutant heads (5)
sea monsters (13)
wild things (7)
I don't remember where I got most of my icons. They are stripped of copyright information and recontextualized into arrangements of associations, etc. Here are some of my favorite icon-makers, though:
InterfaceLIFT is the best place to find many more, if you would like to fall into this hole of low-level insanity with me.