tuesday, july 19, 2005
Mac OS X 10.4.2 messed up my iMac, and now I have to reinstall Tiger. This isn't supposed to happen! After installing the update, I restarted the computer — but it hung at the spinning-cyclone stage. I shut it off. Now it just hangs at the spinning-cyclone stage of booting up. When I hold down cmd-S, it says:
load of /sbin/launchd, errno 88, trying /sbin/mach_init
load of /sbin/launchd failed, errno 88
The closest thing I can find in Google is one person's similar problem with OS X 10.3.3. The nasty thing is that my Tiger discs (OK, they're Mister Kyle's) are fifty miles away in his apartment, but he's in San Jose until September. Aaah!
At least I'll read more now. I recently finished How Buildings Learn, by Stewart Brand, and I loved it. This morning, I went on a walking tour of Spring Street (downtown LA's old Wall Street, sort of) and all the pages about adaptive-reuse and preservation just jumped out of historic Beaux-Arts facades on lofts, residential low-income hotels, and office space.
The best part might have been inside the Alexandria Hotel. We saw two giant old ballrooms: dusty linoleum floors, stained-glass skylights, very empty. The second floor was dark and weird, with the original ceiling of the 40-foot lobby, which was divided after the hotel lost its rich guests to the Biltmore and other hotels. The now-low ceiling is densely ornate and pretty strange to see from 5 feet instead of 35.
I want to go on some more of these Los Angeles Conservancy tours. It's very cool to see nice old buildings up close.
tuesday, may 18, 2004
looking through a big old window on the 20th floor of a minor skyscraper in downtown los angeles is naturally rather interesting. you can see the shiny brown-gold sun set over the hills. the sunset! it's usually hidden by a zillion buildings (unless i'm standing on a specific scrubby hill in pasadena). i guess you can see the sunset at the beach too, but mister kyle and i tend to be there when it's already dark.
yeah. there's the endless cars crawling along the freeway as if they were boxy grains of triclosan in some transparent hand lotion poured down the asphalt. below my skyscraper, a brick building has trees and canvas umbrellas on the roof — somebody said it's the jonathan club. the smaller roof next to it has a tiny basketball court. i attempt to spy, but i can't see anyone there.
at this altitude, the other skyscrapers are even more impressive. i like those giant clunky obelisks, covered in all their tricksy reflective glass. i imagine they'd make super-great mirrorproject shots, except that the reflective surfaces are thousands of feet away.
volunteer at kusc and you too can stuff envelopes for two hours and then, on your way out, stare through a lovely window.
i took photographs but they need to be developed.
update 5/31/04: a photo.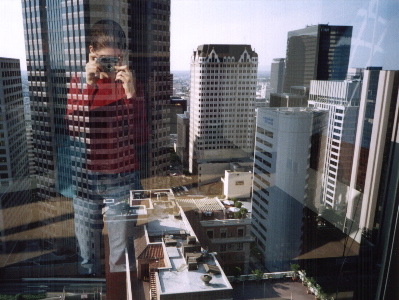 it is strange to take photos with my old film camera. first of all, i have to buy film. weird! you mean photos cost money? that's like saying i have to pay $7 for a small pile of new text files. wait, that's a notebook. anyway, the camera makes a noise when you snap a picture. i wish i could switch that off; i like to take pictures inconspicuously. then, there's no little lcd preview screen, so i have no idea what i'm doing. not to mention that i have to pay more money before i can see the results, and then i have to scan them.
---
mister kyle and i visited the central library this weekend. afterwards, we walked around downtown, but i forgot to bring my camera.