monday, january 30, 2006
I liked my project for photography class, but the professor didn't really. So I rebel with black-and-white clichés!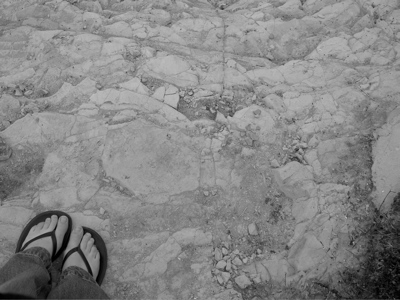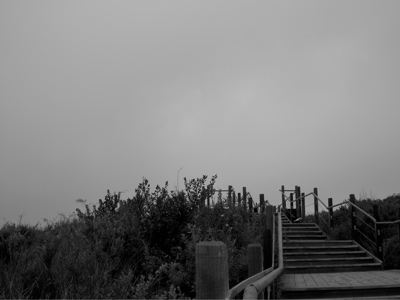 sunday, january 29, 2006
As the friendly automaton behind a support email address (these are only my personal opinions, by the way), I see maybe six or seven challenge-and-response emails a day. I believe the makers of anti-spam solutions did not design for efficiency on the sender's end. Not that I would expect them to. They all suck.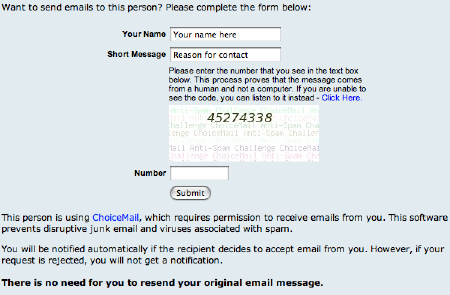 Besides having a doubly-stupid name, they don't use a standard email address (like person@choicemail or choicemail@domain) so I can't filter them out along with the other anti-spam emails. I don't want to fill out a "Reason for contact" — it's enough that I have to type in a random string of numbers. Eight numbers is too long, anyway; the eye processes things in groups of three or four (note license plates and telephone numbers). Is this "notification" by email or in the browser? Ambiguous language. Crappy form. Suck.
Earthlink Spamblocker (image edited to remove addresses):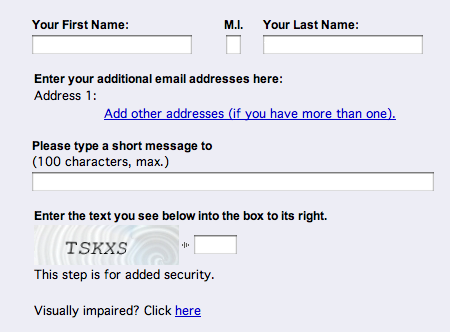 These fill in your "name" for you, but don't accept periods as part of a name, so I have to re-type it every time. I don't want to type in a "short message" when the email has already been sent. The best thing about these is that I've only seen three or four different CAPTCHAs in the dozens of times I've filled out their forms. Can't bother to generate random images? Suck.

These ugly CAPTCHAs are often hard to read and I have to do it a couple times to get it right. The "Sending confirmation" title is weird and ambiguous. Mostly, I don't like having to stare at fuzzy letters. Suck. But I think they made "tira-teima" into the Portuguese equivalent of "challenge-and-response email", which is an unwieldy phrase. So I like that.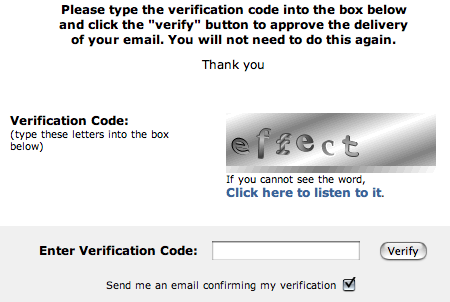 A simple form and an easy CAPTCHA make things nicer. I like the familiar-word approach because I don't have to peer at each character while I type it. The pre-selected confirmation email checkbox is annoying, though. I don't want a verification email, so I have to mouse over and uncheck it every time. Half-suck.
tuesday, january 24, 2006
While wandering around the Davidson Library, looking for interesting emergency-stuff for a project for photography class (insert some silly thesis about the fragility of blurred and macro-ized fire-alarm pulls), I found another strange abundance of orange things: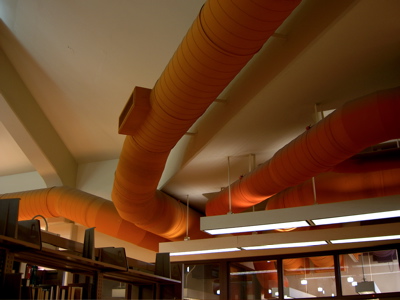 Brazil among the books!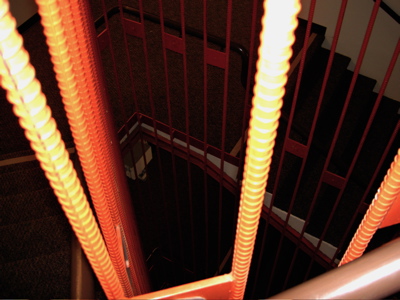 A reinforced-steel staircase? Yes.
saturday, january 21, 2006
These are the classes I'm taking this quarter:
Malaise, Melancholy, and the Production of Art
Latin American Modernism
Lower-Division Photography
Empathy and Empowerment Through Reflective Listening
Which means, so far: José Martí, Robert Burton, Joel Sternfeld, romanticism and modernism, body and mind, systematic and empathic, knowable and unknowable, logic and intuition, structure and presentation.
From the Ask A Linguist FAQ:
University should be a more explorative enterprise, where you can frolic in large and fascinating fields of knowledge, where you can shape and refine your thinking about who you are and what your social/political/cultural roles should be, and where you can start to sort out some of the big questions of life.
Where does this lead? Maybe to being a journalist (the current hypothesis), but it certainly is a roundabout method.
thursday, january 19, 2006
The Storke Tower reflecting pond (yes, reflecting pond — the filter broke and they let the pool go wild instead of fixing it) is home to the celebrated bent fish of UCSB: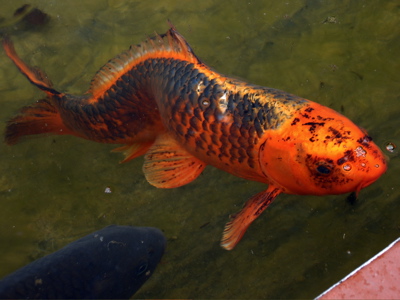 Max (my superlatively awesome boyfriend) showed it to me and took this picture. He asked the biology majors in my house about it and they surmised something about a broken spine repaired by fish surgery. Fish malpractice suit?
He also noticed this: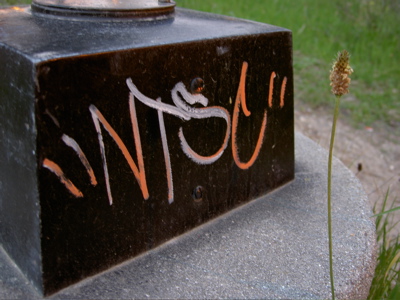 We're tempted to scribble "PAL" and/or "SECAM" on the other sides.
saturday, january 07, 2006
My little sister (Lizzy) calls me an "old lady" for several reasons, including: I enjoy crocheting and sewing, I like to cook, and I have a collection of small house-plants. I also seem to collect Depression-era glassware and wear pajamas made by my great-grandmother. Anyway, these are a couple of my recent projects.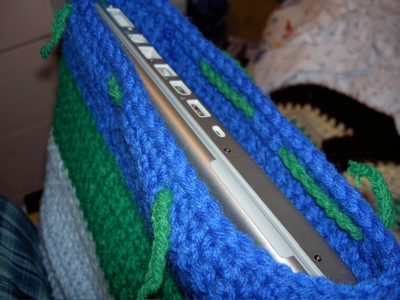 I crocheted a sweater for my computer. The purpose is to keep it safe while in my backpack, so I didn't need a real closure for the top; the little green ties are mostly for decoration.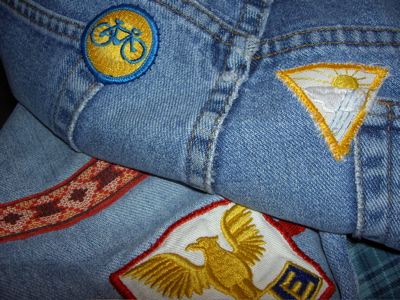 As my favorite pair of jeans wears out, I keep adding patches to the developing holes and tears. Right now it has two Girl Scout badges, a Fraternal Order of the Eagles patch, and a vaguely Native American ribbon. I'm going to add 15th Air Force and Fleet Marine Force Pacific Supply Service insignia soon. A Chi Phi Fraternity patch is waiting for a good opportunity, and I'll use a Real Madrid patch if I can remember where I put it. The main theme: red, yellow, and blue patches from organizations that I do not belong to.
This is reminiscent of the theme for the stickers on my iBook: small, geometric lies.