wednesday, august 31, 2005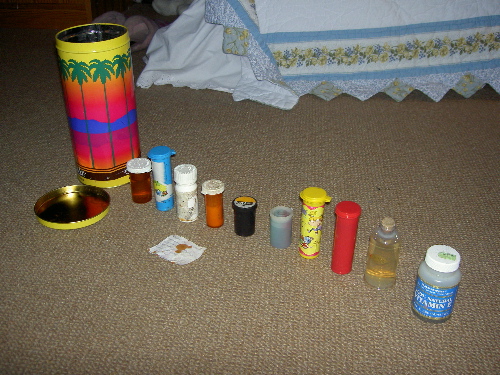 Like some demented pharmacist, I collected different kinds of water when I was around eleven years old. I wanted to do experiments like comparing ocean water from different locations, fermenting flower juice, and fooling my little sister. I also bought some litmus paper strips and had a lot of fun with them (the rest are still in my desk). The stained scrap of paper in this picture holds a list:
N.J. seawater
LA tap water - preserved for future testing
rosemary water
fake milk - why the Tia Maria can smells like talcum powder
music water - from the fountain outside the Dorothy Chandler Pavilion (I went to the opera a lot when I was eleven)
watercolor juice - Lizzy refused to drink it
car water
jacaranda wine - after squeezing a ton of purple flowers, I was disappointed that the little bottle was only half full and added some balsamic vinegar (hey, it was the right color)
hawaii pool water
S.F. seawater - by this time, my family was beginning to think I was a bit weird
---
A brand consulting company somehow got the notion that Jeweled Platypus is one of the most influential teen blogs in America. LOL! They paid me $60 to blabber about search engine-portals though, which was fun.
saturday, august 20, 2005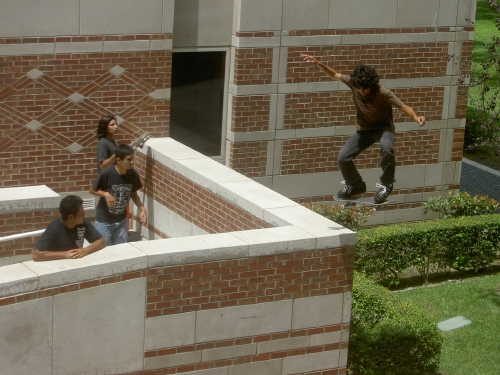 I like USC and its crazy skater boys. The sorority girls can die, though.
monday, august 01, 2005

This past Christmas, my mom gave me a moleskine and a Fisher space pen. HERE'S A PICTURE OF MY CAT. I mean, once I held the little notebook, I realized I had to fill it up somehow; normal moleskine things wouldn't work. Sketches were out - I draw about twice a year and enjoy it both times. Written thoughts get typed into TextEdit. To-do lists go on index cards (groan). I had another idea.
One of my "someday" projects is to make a good book tracker app, including metadata for analysis: dates read, number of pages, year created, rating, blah blah blah. But until that happens, this is part of how I fill my moleskine. I give each book half a page and a little box where I draw its cover with colored pencils. So I hate covers like Six Degrees - impossible to draw. King Rat? The Kite Runner? I can do those. Some covers, however, end up looking like crap. That's OK. It's just meant to break up the endless blocks of tiny writing where I complain about authors using the word "teeming" eight times in two hundred pages. Example:
[The Island of the Day Before, by Umberto Eco]
Eco is boring and impenetrable, but I needed something to read. Mom lent this to me a long time ago. I liked parts of it - more parts than in Foucault's Pendulum. Odd, dreamy, allegorical, confused. I liked the bits about Baroque science; reminded me of the Neal Stephenson cycle. But the battles? the Lady? the priests or whatever? Boring!
The reviews are sometimes pretentious and spoilery and that is why I don't show most of them to people. I like my system, though, because re-reading old pages tells me something about myself mixed in with the books. But if I don't record things right away, I lose my ideas and sometimes the order I read them in - sometimes even the cover drawing when I have to give back an obscure book. MY NEXT PROJECT IS KNITTING A MOLESKINE-IPOD COZY.