thursday, june 28, 2012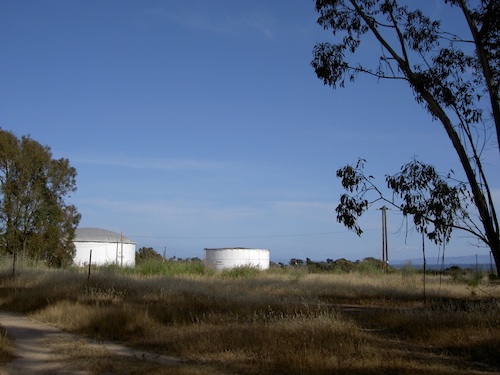 I grew up in Los Angeles where there are a lot of oil wells, usually somewhere out along a freeway. (I always liked the wells you can see on the way to LAX, ones that look like dinosaurs eating from the ground.) In Santa Barbara, our oil wells are out in the ocean, and the university-owned nature preserve leases some space to an oil company to store crude oil drained from the ocean floor. This nature preserve is next to the neighborhoods around the university, and you can just walk out into the fields and look at the tanks with their coded markings and geodesic dome tops.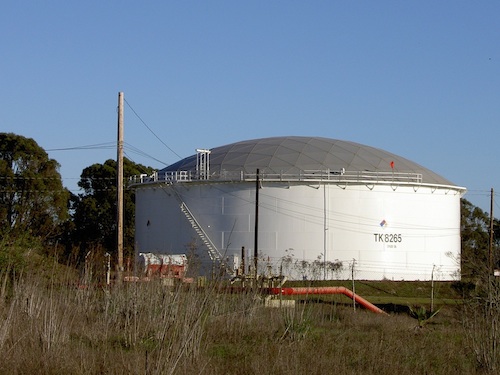 Nobody really tells you that the tanks are there, since most people either don't find them particularly spectacular or haven't been to the nature preserve. You hear about them when you acquire a boyfriend who lives next to them; he shows them to you because you both like infrastructure. (From his apartment we listened together to trains whistling, the coastal fog horn, and airplanes headed to and from the little airport next to the university.) We found out about a historic gas station down the road, built as a showcase by one of the oil companies in the 1920s, now picturesquely defunct and a favorite of everybody in town with a fancy camera. On a few Saturdays we took long driving trips to visit other oil fields — he'd tell me we were going on an adventure, and a couple hours later I'd look out to see more oil pumps than I'd ever seen in one place before.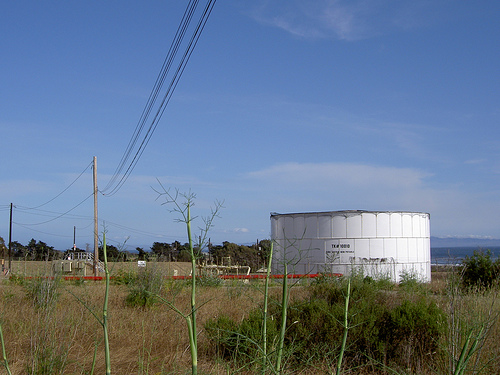 The native Chumash people used the natural tar on the beaches here to caulk their canoes, and the tar still comes up and caulks the bottoms of your feet if you're not careful while walking on the sand. There was even an asphalt mine for a couple years in the late 1800s where the Art Department building is now; there are a few surprising pictures of very grimy-looking men hauling things around the campus lagoon.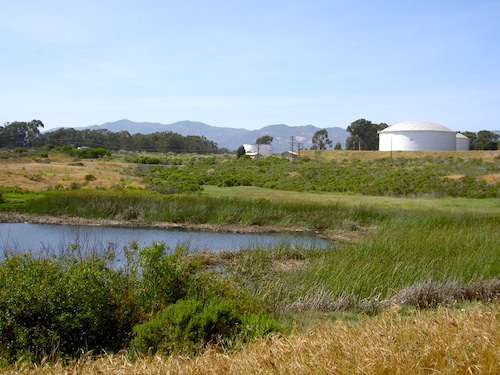 I've read that the oil company's lease on this nature preserve land ends in 2016 and the university doesn't plan to let them renew it, which makes sense, but I like living in a place where its history is so close to the surface. By looking you can find clues that this land was once a slough, then ranches, then explored for oil, then a small WWII marine base, then a university nature preserve. It's not heavily developed enough yet to obscure the origins of the place, unlike where I grew up in LA — where old underground oil developments sometimes come back to bite people in the form of gas explosions, and where the remaining active oil wells are carefully hidden.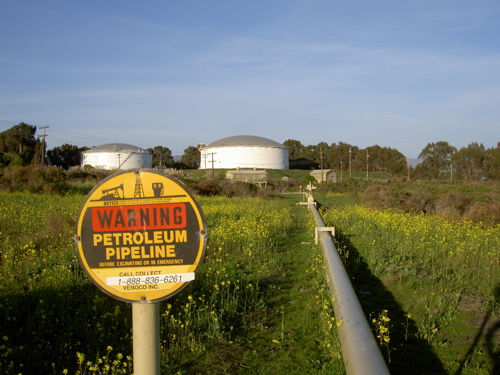 thursday, february 03, 2011
I like learning geometry and topology terms that make you notice and describe patterns out in the wild:
Catenary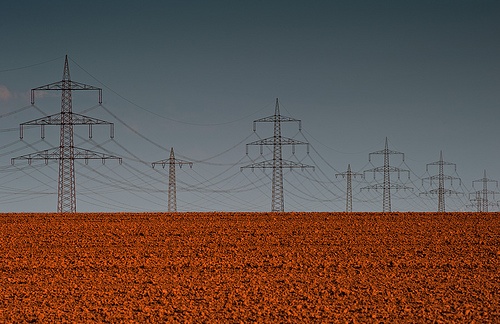 The wires hanging between those pylons form catenary curves, which describe what happens when you hang an ideal string between two points. The word is also used for catenary wires (which power trains).
Caustic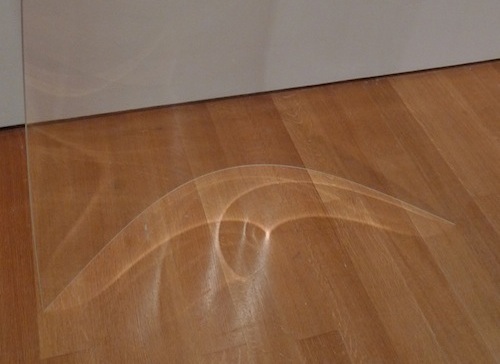 These shiny light shapes are caustics generated by a spotlight shining on a curved piece of plastic (Untitled, 1967, Giovanni Anselmo, Museum of Modern Art). You can see a typical caustic by taking a mug of tea into the sunlight and looking at the curvy, pointy light on the tea surface. This is also what you call the light patterns in the shadow of a glass and wavering at the bottom of a pool.
Reaction-diffusion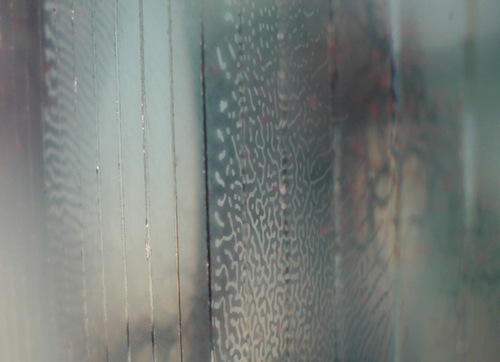 These wiggly lines are a reaction-diffusion system of air bubbles between two panes of glass in a layered piece of art by Dustin Yellin. This type of wiggly pattern also happens in places like bird feathers, rabbitfish scales, and shriveled paint.
Angle of repose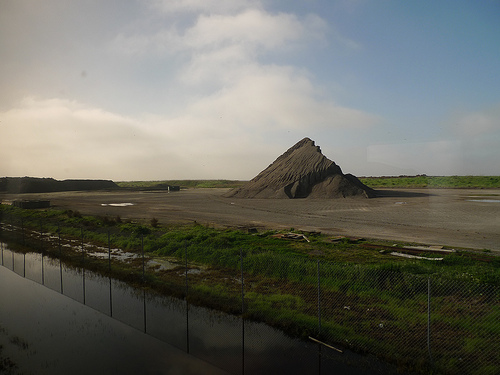 The dirt in this pile is showing off its angle of repose: the slope that a pile of granules forms when it is "at rest". You can watch for the angle of repose when you shovel snow and throw it in a pile, or when you build sandcastles, depending on where you happen to live right now.
Read more
My friend Dan is writing about geometrical curiosities on his blog. My favorite post so far is an introduction to pseudospheres and tractrices.
Vi Hart makes lots of related projects including looking at the hyperbolic shriveling of dried apple slices.
Bonus words
Non-geometry-related things to find and name: bollards, wall ties, ghost signs, perforated screen walls, former Fotomats, benchmarks (find some near you), manicules, telephone exchange buildings, skeuomorphs in general. And obsolete technologies that are still in use or still visible: sidewalk prisms, Quonset huts, civil defense air sirens, glass insulators, old-style phone numbers.
wednesday, august 18, 2010
When people care about the place where they live, they often end up helping make it a better place. But how do people get interested? It might help if the history of that place is brought to the surface, making its compelling stories more noticeable. A good local newspaper or blog can do this, but only if you find one and read it regularly. An augmented-reality mobile app might be able to do this instantly for anyone curious about their surroundings, but only if they have that device. What about for everyone? These are some stories about a place I like.
Isla Vista is the only neighborhood right next to UCSB, and it has a bad reputation as a half square mile of drunken student parties. It is that, but it's also a lively dense community with its own complex history, where people walk and bike everywhere, with more of a sense of place than you can find in some whole cities. It's noisy on weekend evenings (starting on Thursday), and if you're used to nice suburban neighborhoods then it probably looks like a crowded mess, but it's interesting and deserves more than the usual stories of terrible landlords and beer pong tournaments.
A few examples of Isla Vista's self-image: there's a local blog called Only in IV where all the posts are photos of drunk student shenanigans (and a few beach sunsets), the more outrageous the better. A website called The Dark Side of UCSB compiles and sensationalizes statistics about crime and drugs in Isla Vista, with the attitude that these problems are endemic to IV and can't be avoided or improved. A personalized map of the Santa Barbara area, with Isla Vista on the left, describes it as "STDs, broken glass, sex, loud music, bikes, theft, bike theft." A photo essay describes IV as a "teeming ghetto paradise…Children or adults are odd apparitions here…Trampolines and beer pong tables litter most yards…a glorious mess of potential and pollution, treasure in trash." All of this is only one aspect of IV, mostly Del Playa Drive (the street closest to the ocean), but it's the reputation of the whole place.
So I spent my first three years at UCSB mostly ignoring Isla Vista. I only walked in to get a sandwich or cookies (a friend had told me about the IV food co-op), and sometimes I ran into the main park along the way. It's a very nice park, with lots of trees and a little pond, and this confused me then because IV was supposed to be some kind of den of stupidity, not a lovely place to escape from campus for a little while. In my fourth year I moved to an apartment there with a friend, and out of curiosity I started walking around, taking photos, and googling what I found. (And then I started playing Noticin.gs, which turned these walks from "occasionally" to "every single day, up and down as many streets as possible.") I learned that when you look carefully at a place, it starts to tell a story.
Each thing in Isla Vista has something to say: a small stand of oak trees remaining from a very old forest that helped feed the nearby Chumash village (until the Santa Barbara Mission moved in), an earthquake-damaged polo barn built by a gentleman rancher a hundred years ago, place names with grammatically incorrect Spanish phrases thanks to speculative land developers in the 1920s (Isla Vista, Del Playa, etc.), kitschy apartment buildings built in the 1960s after UCSB moved to the defunct marine base campus next door, a system of pretty little parks developed as part of post-riot community organizing in the 1970s, a solar-powered parking lot built last year as part of a "Master Plan" to fancy up the area, and a zillion other bits and pieces within this half square mile that is more interesting than it looks at first.
But few people have the time or inclination to develop a gigantic enthusiasm for local land-use history, so a lot of students graduate from UCSB without ever seeing the fancy old barn, or learning why the street names are so weird, or noticing the lovely modern houses at the end of Del Playa — and now I think they've missed out on something good. IV is not a place where most people want to live for decades if they have a choice (hearing drunk guys peeing on the plants outside your window gets annoying, and thumping party music from next door probably doesn't help babies sleep, and did I mention that most of the housing stock was cheaply built in the 60s and hasn't been properly maintained), but it offers an alternative to the anonymous apartments and quiet single-family houses that we're all likely to drive home to for the rest of our lives.

Fortunately there are a lot of students (and other residents and friends) who love IV and work to keep the good side of it healthy through participating in the food and housing co-ops, organizing all-ages live music shows, helping out the homeless residents, painting fantastic murals (official and unofficial), picking up trash, publishing a local magazine with the help of the university, making community banners, and lots more. But there's something that could be added to this, counteracting the kind of short-term memory that comes from most of the population spending fewer than four years in the place. You can collect parts of the story if you search around a lot: an UCSB and Isla Vista Walking Tour and Historical Accounts and Maps of the Goleta Slough (both compiled by a UCSB physics professor), "Goleta, the Bad Land" (an article about the town next door), a graduate student project covering the history of the IV Parks and Recreation District (although those PDFs seem to no longer be online), and a couple of works from specific activist points of view: Isla Vista: A Citizen's History and Don't Bank on Amerika.
So I read everything about IV that I could find online, and my nice patient friends listened to me when I went into the mode of "Area Man Way Too Into Local County History" and rambled about why this or that church building in IV is fascinating, or about my gleeful discovery of the Tree Monument, or finding bushes of blackberries along a sidewalk. So I decided to put all of this together and hold a walking tour for whoever wanted to come. We talked about The Big Here, we had fun, it was very dorky, and I learned that this wasn't scalable to large numbers of people (both because it's tough to yell loud enough for a crowd, and because not many people voluntarily show up for this kind of thing). Here are my raw notes for it. What next?
I like interpretive signs, so I thought about whether IV could use some of those, but I think that kind of informative historical marker sometimes fossilizes the subject instead of bringing it alive — it becomes something to look at from a distance, a mediated artifact. I like sidewalk plaques better in many cases, since they don't interfere with your view of a structure or place, instead quietly adding to the ground if you want to look down and learn more.
So I'd like to install some sidewalk plaques in IV! Traditional bronze markers would be very expensive (and require who knows what kind of permission and work to install), but there's an alternative made with linoleum: messages in the style of Toynbee tiles, which are crackpot graffiti anonymously glued to asphalt roads in a few cities:
I found a guide to making this type of tile, and they sound labor-intensive but doable. They break apart after a few years, but that's fine. You can make different shapes and designs, like these:
I'd like to install tiles that add little bits of information to places around IV, just enough so that a curious viewer would have a clue toward what to search for on Google:
Or something like that. It'd be perfect if these tiles looked mysterious and a little crazy, but you could also use them as anchors for an extensive pamphlet/online walking tour of IV. All of this would probably be eligible for a UCIRA Undergraduate Action Research Grant to cover the cost of materials and maybe support a couple people working on it for a summer. I'm no longer hanging around Isla Vista most of the time, but I'm hoping that somebody else might be interested in doing this someday. If you are, let me know!
The same idea with fewer words: photos of Isla Vista in 2009, my last year at UCSB, and post-college visting UCSB and IV.
thursday, august 27, 2009


From an artist's book by Amy Knowles; $16.
A few months ago I wrote an essay about how learning to use the internet is like learning to live in a city. This was for a class where we read urban critics/philosophers/sociologists like Walter Benjamin, Michel de Certeau, and Georg Simmel. They lived in the 19th and 20th centuries and talked about things like: what happens to people when they move to cities, how it feels to live in dense urban centers, and whether "the city" is an imaginary place anyway. Some of their concerns about the experience of mass urbanization are similar to concerns I've heard about the experience of mass internet use: dealing with information overload, wandering in a non-linear fashion, learning unfamiliar interfaces, developing less sensitivity to shocking sights, finding connections within fragmented communities, encountering thousands of strangers every day, and acting badly when anonymous.
OK, resemblance between physical and virtual worlds is not surprising. The class description said "The big city is an archetype of the human imagination," and somewhere else I read that social aspects of the web are modeled on the places where many of its developers, entrepreneurs, and designers live: San Francisco, Los Angeles, New York, etc. I like those ideas, and I think they're useful.
A while after I turned in my rambling comparison essay, I found this academic paper with some actual citations: From Flâneur to Web Surfer: Videoblogging, Photo Sharing and Walter Benjamin @ the Web 2.0, by Simon Lindgren in November 2007. Quotes, with comments from me:
Even though the flâneur moves around "in an uncoordinated, fleeting way" due to "the fragmentation of modern life," he can still "redeem it through his ability to aesthetically link otherwise disparate phenomena."

[The web surfer can make sense of her hypertext experiences by organizing them into a blog or shared bookmarks.]

Lefebvre's theory on The Production of Space is…fitting in many respects when it comes to the ways in which web interactants, as well as commercial actors, employ a number of social strategies to render the rooms of cyberspace as physical realities.

[A group of friends keeps in touch throughout the day in a virtual chat room because we all agree that it is a real place where we should show up and talk to each other.]

Sites such as YouTube and flickr are in fact good examples of the temporal and spatial dissolution discussed by a number of postmodern writers…Benjamin addressed similar themes and issues when he analysed nineteenth century Paris as a composite of a thousand eyes and a thousand lenses, all of which acted as screens, reflecting subjects back to themselves as objects.

[Flickr's geotagging feature collapses many views together on top of coordinate points; Google Street View offers a reflection of ourselves in a shared way.]

It is "almost impossible to summon and maintain good moral character in a thickly massed population where each individual, unbeknownst to all the others, hides in the crowd, so to speak, and blushes before the eyes of no one."

[We call this the Greater Internet Fuckwad Theory, or more politely, the online disinhibition effect.]
If none of the above made sense, here are some other comparisons of the city to the internet:
Bright Lights, Big Internet (New York Times, July 2009)

"The experience of moving online actually bears quite a few similarities to becoming a New Yorker. Disorienting and seemingly endless…residents of the Internet do not suffer fools, or mince words in belittling them…the presence of an audience causes online residents to style themselves as outsized personae." [See also: Newcomers Adjust, Eventually, to New York.]

Wikipedia: Exploring Fact City (New York Times, March 2009)

"Like a city, Wikipedia is greater than the sum of its parts; for example, the random encounters there are often more compelling than the articles themselves…Since their creation, cities have had to be accepting of strangers…'They wouldn't last a week if we farmers stopped shipping our food!'"

World-viewing city walking (imomus, March 2009)

"I'm thinking more of the internet as a medium in which you can go for a daily walk, without really doing, or expecting to do, anything significant."

My own private metropolis (Financial Times, August 2008)

"That freedom to experiment with personae, to play out fantasies of self, once the unique gift of the metropolis, is available on everyone's laptop."

Stephen Fry: The internet and Me (BBC News, March 2009)

"But the internet is a city and, like any great city, it has monumental libraries and theatres and museums…there are also slums…but you don't pull down London because it's got a red light district."

The Internet as a City: Thoughts on the Connected Brain (Digital Natives, January 2009)

"Vast expanses to explore, anonymity, a nebulous web of connections, and of course, the many possible distractions…but give newcomers a few months, they'll be able to navigate the city like any seasoned urban dweller."

A person I asked (March 2009)

"You end up spending all of your time in like three places."
tuesday, march 31, 2009
I wrote the following informal thing for my "Europe's Vision of the Orient" class in fall quarter, and it might be interesting to people who have watched The Adventures of Prince Achmed by Lotte Reiniger (1926): "a pioneer feature-length animated film…a brilliant feature, a wonderful film full of charming comedy, lyrical romance, vigorous and exciting battles, eerie magic, and truly sinister, frightening evil" (says William Moritz). This is out on DVD with a press kit containing some good articles (PDF).
Update (April 3): There's a review from 2002 that considers the women and stereotypes in the story.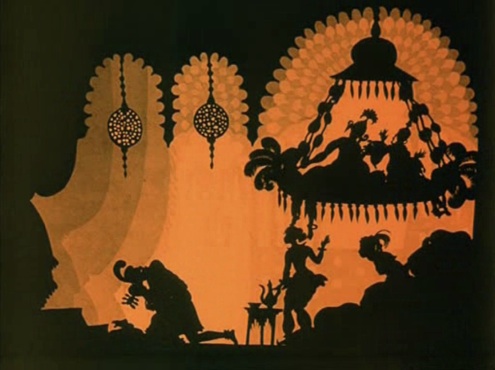 Most of the existing writing about The Adventures of Prince Achmed just admires the film's aesthetic and technical achievement, but this work also has an interesting place in the history of interpretations of the Thousand and One Nights. The animation is full of traditional Orientalist (pretty much racist) motifs too, but people still watch it for fun, probably conscious of the illustrated stereotypes but not concerned about them. These motifs seem unsurprising on a screen, partly because "most people today who have an image of the Nights or think that they know about the Nights derive that image and that knowledge from films" (page 225 of Robert Irwin's great article A Thousand and One Nights at the Movies from 2004; reading it requires your university library's subscription to Middle Eastern Literatures).
Prince Achmed is appealing because it matches an unusual technique to an exotic subject. The elaborateness of Reiniger's cutouts produces a sense of the otherworldly, erotic, and extravagant — in other words, making a Thousand and One Nights story was a good opportunity for Reiniger to display her virtuoso skills in ways that didn't make as much sense for an animation of Jack and the Beanstalk. Talking about Thousand and One Nights movies in general, Irwin refers to a "visual clutter of oriental knick-knacks" that "can be put to any purpose" (225), and Reiniger makes use of them. This styling helps reinforce the idea that the Orient is a place of strangeness and excess, which is part of how European (and European-influenced) popular culture maintains the "other" status of the Thousand and One Nights while its stories have been significant and integrated within European art and literature for hundreds of years.
Like Reiniger, artists in the 19th century reached to the Orient to add variety and interest to their art; they produced lots of paintings of imaginary half-dressed harem girls, which were somehow more suitable for polite company than paintings of half-dressed European girls.
Prince Achmed was also influenced by German Expressionism (see this snippet from a history of animation). In A Thousand and One Nights at the Movies, Irwin says:
Expressionist films…were ostentatiously designed films, which made great play with play of light against dark and the use of landscape and architecture to symbolise or express in a stylised fashion Man's inner states…preoccupied with Fate and with the monstrous and the supernatural. It is easy to see how well this essentially German subject matter could be married to the stories of the Thousand and One Nights. (226)
Irwin mentions Prince Achmed explicitly when talking about Thousand and One Nights movies as "a showcase for special effects…think of the marvellously animated and delicate silhouettes created by Lotte Reiniger…this sort of film work is, in effect, using magic to create stories that are about magic" (231). In What the Shadow Knows: Race, Image, and Meaning in Shadows (1922), Alice Maurice analyzes a very different movie but has a useful interpretation of silhouettes: "can be distilled into the two categories most at odds in Shadows: elusive or illusory phantasms on the one hand, and immediately legible expressions of hidden truths on the other" (72). Maurice also notes that restaged Chinese shadow plays were popular in the United States in the 1920s (69), which would have reinforced Reiniger's animation of an Oriental story.
Reiniger based her film's plot on stories from a sanitized translation of the Thousand and One Nights for children, Andrew Lang's Blue Fairy Book (according to Wikipedia), but she still included a lot of sexy parts, like the harem scene in the still above, and violence. This follows in the tradition of Thousand and One Nights translators modifying and reinterpreting the stories at will for different audiences. Reiniger's audience seems to be mostly adults, but the story uses a lot of terrible stereotyped characters, common in children's literature: the African witch, the Chinese despot, and a couple of delicate and mysterious Arabian beauties. Plus the love story has the princess resisting the prince but very quickly giving in. Irwin has something to say about that too: "Medieval Arab storytellers were always happy to include strong, bold and even violent female protagonists…[In modern Western films] the beautiful girl is at best a sidekick, but essentially she is man's reward for coming through all those dangerous adventures" (228).
Reiniger maintains the recursive aspect of the narrative, putting a few stories within stories, but that's not central to her retelling. This version of the Thousand and One Nights provides no outer frame story, so Reiniger acts as a kind of Scheherazade: a talented female storyteller, directing the team that produced the story. She doesn't tell this story to actually save her life, but her work has kept her memory alive among people who appreciate film and especially animation, and at least somewhat among people who are interested in the history of the Thousand and One Nights.